Product Schedules are used when you need to manage recurring revenue and delivery over time.
There are different types of Schedules:
Quantity Schedule – used if a Customer pays up front but has staggered deliveries;
Revenue Schedule – used if the Product is delivered as a whole but, payment is in instalments;
Quantity and Revenue Schedules – used if customers require both a delivery and quantity schedule, i.e. a monthly product paid monthly;
Default Schedule – used if all products and deliveries are made on the same schedule such as Service Contracts. Not useful for Products that require customised schedules.
OK, I get that, but do I need them?
Well you tell me?
What do your revenue forecasts look like? Accurate? Stab in the dark? Finger in the air?
If they are accurate then great, you don't need to read any further. If it's mostly guess work, slightly unreliable and requires data manipulation outside of Salesforce, then Product scheduling may be just what you need!
Product Schedules can help with the following:
Visibility of committed and forecast revenue streams;
Removes the headache of managing customer payments. Easier to see the full revenue of Opportunities;
Easier to manage cash flow and plan;
No more spreadsheets!
Take a look at this scenario..
Toot Printers are global manufacturers and suppliers of printers and associated goods. When they win an opportunity, they have to ensure that any 'swap out' programme of the printers is considered when they set up their invoice and delivery plans. This could happen over a period of 2-3 years and the revenue from that sale will be recognised over that period too. So, Toot Printers would really benefit from Product Schedules as it will allow accurate forecasting of revenue recognition.
They also supply Maintenance Contracts which again run over the life of the printer. Product Schedules can be set up for monthly, quarterly or yearly payments for these contracts, ensuring that the revenue for these can be tracked, managed and recognised during the right FQ.
OK I'm sold, so how do I set them up?
Right, well make sure you're in Salesforce Classic (not available in Lightning yet) and go to Setup – Product Settings,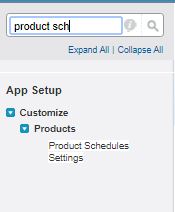 select the Schedules you need and select Save
To add a Default schedule to a Product, go to the Product from the Products Tab and select Edit.
Decide whether you want a Quantity or Revenue Schedule or both and complete the relevant fields and select Save.
When you now add any Product with a Default Schedule to an Opportunity, the Default Schedule will be picked up and calculated.
You'll need to repeat this for each Product that needs a Default Schedule.
Brilliant!! I hear you say, so how does this work with Opportunities if I want a Custom Schedule?
OK, so you go to an Opportunity and add the Product to it and select Save.
Select the Product Name from the Opportunity Product Related List and you will see a new Section called Schedule, select Establish.
Choose the type of Schedule you want and then complete the options for that Schedule and select Save.
Salesforce will calculate Quantity and Revenue dependant on what value you set up the Opportunity Product with, select Save.
If you need to change the Schedule, you can go into the Opportunity Line Item and select Edit.
Make the changes you need and select Save.
If you have to change any of the indivual Schedules then you can use the Edit Button.
The Re-establish Button allows you to reset the whole Schedule.